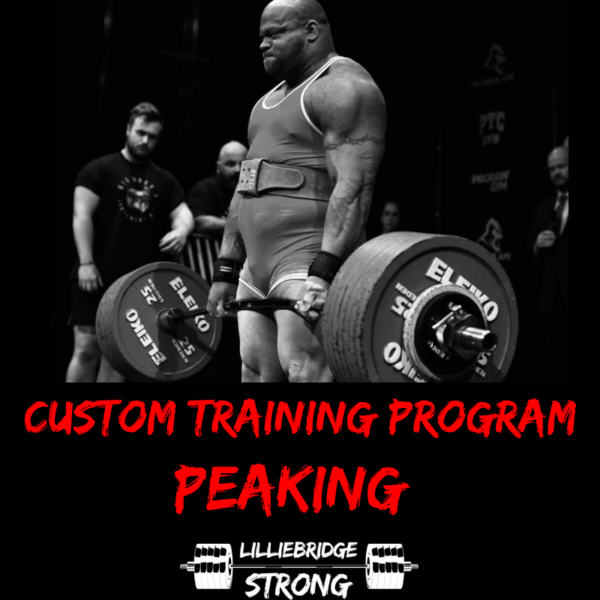 Eric Lilliebridge Custom Training Program – PEAKING
$29.99
Description
Take your training to the next level! My programs have allowed me to set multiple world records and coach many record setting clients and now it's your turn! These programs are customized to your needs. In fact, they are designed to allow you to continue to customize them as you progress through the weeks of training and get stronger so you are always working with optimal loading.
Eric Lilliebridge's Custom Peaking Training program includes:
A full 12 week Peaking Training program template for Squat, Bench & Deadlift combined

A User Manual guide


Customizable load calculator

Accessory training for each lift

Optional 3 or 4 training days per week

Suitable for any training level
My custom training programs will take your lifts to new levels and help you peak into a competition or testing for new gym PRs. 
I've developed these brand new training programs in order to share my years of Powerlifting and coaching experience with you. There's a reason my clients get so insanely strong and now you have access to the programs they utilize.
The Eric Lilliebridge Custom Peaking Training Program & User Manual guide is downloadable in PDF form from your order receipt Email. Click on the links under "download" from your order receipt to open and save the files.
NOTE: You will be sent two order receipts. One from PayPal and one from this website. If you do not receive your order receipt from here with the download links, please Email info@ericlilliebridge.com for further assistance.
ALL SALES ARE FINAL ON PROGRAMS